Night of the Succubus 2 (2016/PC/JP)
Full voice & full animation of a one-night-stand once more, with a demon seductress.
Physically slight and oppressively arrogant succubus
milks her lover's life force this way and that.
This sequel has now been UPDATED (Dec 24, 2015) with
"fluid drench mode" in addition to the expanded contents
of anal play, and an added "cumshot timeline" mode.
Size:
1,14 GB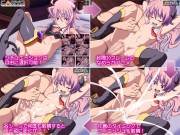 ************************** DOWNLOAD LINKS **************************