MIX FIGHT Little Devil Servant (2016) 720p
* MIX FIGHT Little Devil Servant ~ Battle Ryona Assault
* @OZ continues the 3DCG Virtual Movie 4th Series
with DOA's epic twin tail blonde that fans will instantly recognize:
Marie R*se packs her beautiful fighter's bod into a one-piece
and hits the ring VS a giant, brutal attacker.
@OZ is in fine form with these dazzling XXX CGs.
Our pretty maid doesn't fail instantly. She wins round one.
Then the giant takes her to the mat. Legs split nipples licked
gut slammed and choking on a chain, an iron wand humiliating
teasing her clit-and-titty+deflowering, Marie's ultimate humiliation
is a full blown hymen-busting pregnant-astic f*ck finish.
And everyone is watching.
* Enjoy diverse play and angles with Allplay Replay
Naturally, with @OZ's signature "finish" buttons
* Movie select & editing options
Simply click to queue your favorite movies
Create an original movie edit of the best scenes, just for you
* Hear the heroine's inner voice in all its lewdness
Enjoy filthy monologues of pornographic detail in various situations.
Feel the assault via male dialogue in window text, too.
* Costume options
Choose her battle-ready swimsuit or red bloomers/hotpants
* Select & edit feature
* Sound effects and fluids displayed
* Breathlessly voiced by character actress Aco Byakuya
Size:
445 MB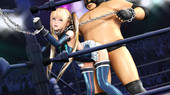 ************************** DOWNLOAD LINKS **************************